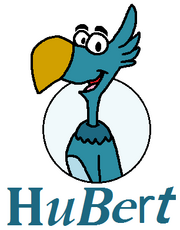 Hubert: The Series (a.k.a. Hubert) is an French-Canadian animated adaptation of children's book series. The show ran for three seasons on France 3, Canal J, TiJi, and in syndication as a part of Les matins de TiJi. It aired from June 10, 2002 to August 24, 2004. The series is about the life of an funny parrot named Hubert. It was created by Tony Barnes.
The series tells the daily adventures of an ordinary parrot Hubert and his owner Rosie Thompson.
Characters
Edit
| Name | Image | Bio |
| --- | --- | --- |
| Hubert | | The main protagonist of the show. Hubert is an funny, clumsy parrot. |
| Sharla | | A female parrot, who is Hubert's girlfriend. |
| Rosie Thompson | | Hubert's owner. She loves play football with her friends |
| Roger | | Rosie's family's dog. |
| Name | Image | Bio |
| --- | --- | --- |
| Buster | | Rosie's family's neighbour. He is a bad who wants pick up Rosie. And the main antagonist of the series. |
| Stephen, Ralph and Bobby | | Buster's cats. |
List of episodes
Edit
1st season (2002-03)
Edit
1.«Family Picture»
2.«Play Time»
3.«Teaching is light»
4.«Hubert at the Vet»
5.«Hawaiian Kitchen»
6.«Treasure Hunters»
7.«Day at the Museum»
8.«Dancing Hubert»
9.«Night Terror»
10.«Mother's Day»
11."Snow Tracks»
12.«Spring Clean»
13.«Goose Season»
14.«Amusement Park»
15.«Cowardly Hubert»
16."Roger on the Loose»
17.«Univited»
18."The Return of Buster»
2nd season (2003-04)
Edit
19.«Snowy Day»
20."Dinner for Two»
21.«Hubert in a Guilty Cage»
22.«April Fools' Day»
23.«Superstar Hour»
24.«Parrot Guard»
25."Back to School»
26.«Hypno Hubert»
27.«Alien Invasion»
28.«Thanksgiving Day»
29.«Sleepless Night»
30.«Grandma Visit»
31.«Rest for Hubert»
32.«Easter Egg»
33.«Dog Show»
34.«Sick Day»
35.«High Security Zoo»
36.«Abandoned»
Martial Le Minoux - Hubert the Parrot
Eric Metayer - Roger the Dog
Philippe Roullier - Mr. Thompson, Dr. Jones
Nathalie Homs - Rosie Thompson, Miss Thompson
Dorothée Pousséo - Buster Watson
Jean-Loup Horwitz - Stephen the Cat
Jean-Claude Donda - Ralph the Cat
Guillaume Lebon - Bobby the Cat
Ron Pardo - Hubert the Parrot
Gilbert Gottfried - Roger the Dog
Scott McCord - Mr. Thompson, Dr. Jones
Julie Lemieux - Rosie Thompson, Miss Thompson
Eric Bauza - Buster Watson, Stephen the Cat
Daniel DeSanto - Ralph the Cat
Blair Williams - Bobby the Cat
Broadcast
Edit
In France, Hubert originally premiered on France 5 on June 10, 2002. In Portugal, the pilot debuted on July 6, 2004, and the series began airing in July 14th on SIC. The shows airs in Teletoon in Canada and Boomerang in Spain.
Home media
Edit
Hubert has been released on DVD in Region 1. In U.S., all 36 episodes of the series were released on three volumes while in France and Canada, the three volumes only contained 29 of the 36 episodes.
Other media
Edit
Video games
Edit
| Game | Publisher | Platform | Release date |
| --- | --- | --- | --- |
| Hubert: Dog Chase | Blast! Entertainment Ltd | Microsoft Windows | April 28, 2004 |