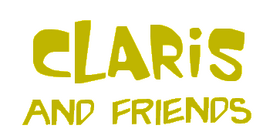 Claris and Friends was an French-British children's animated series created by Tony Barnes and produced by Gaumont Animation. It was based off the Maggi mascot of the same name. It aired from August 13, 2006 to March 11, 2009. The series follows the adventures of Claris the Chicken and his friends.
At the peak of the cartoon's popularity, there were flash games and toys.
Characters
Edit
Name
Image
Bio
Claris

The main protagonist of the series. Claris is, as the title suggests, a Chicken, who has an European accent.

Voiced by: Rowan Atkinson

Bernie

One of Claris' friends. He likes to play bowling with his friend Cleo.

Voiced by: William Roberts

Marc

One of Claris' friends. He likes to eat sandwiches.

Voiced by: William Roberts

Cleo

Cleo is the smart of Claris' friends. He is a nerdy, who has a strong love for science. He wears glasses.

Voiced by: Gary Martin

Suzie

Suzie is the glory of Claris' friends. She likes beauty.

Voiced by: Matilda Ziegler

Linda

Linda is the glory of the Claris' friends.

Voiced by: Helen Lederer
Name
Image
Bio
Mr. Cow

Mr. Cow is, as his name suggests, a cow. He is a bad genius, who always is coming up with ways to endure Claris the Chicken and his friends.

Voiced by: William Roberts

Jackie, Marty and Bob

Wolves, who are minions of Mr. Cow. the wolves display a degree of competence rarely associated with comic-relief lackeys, generally foiled by their adversaries' own luck.

Voiced by: Gary Martin
Supporting
Edit
Name
Image
Bio
Hammy

The pig, who befriends with Claris the Chicken. His best friend is Ollie the Duck.

Voiced by: Gary Martin

Ollie

A duck, who is Hammy the Pig's best friend.

Voiced by: Gary Martin
List of episodes
Edit
1st season (2006-07)
Edit
1.«Business Trip»
2.«Good Neighbor Claris»
3.«Disaster for Dinner»
4.«The Magic Trick»
5.«Claris' Academy»
6.«Worst Day Ever»
7.«The Firemans»
8.«Playing Sick»
9.«Special Delivery»
10.«Chicky Dearest»
11."Double Trouble»
12.«Little Claris»
13.«Nosy Neighbors»
14.«Midnight Movie Madness»
15.«Phantom of the Park»
16.«Shooting Stars»
17.«Phantom of the Park»
18.«Marc the Rockstar»
2nd season (2007-08)
Edit
19.«A Round of Golf»
20.«Babysitter Cleo»
21.«The Gang Gangs Up»
22.«Bernie Works Out»
23.«Inspector Claris»
24.«Picnic Palaver»
25.«Magnetic Claris»
26.«Popcorn Party»
27.«Claris' Big Heist»
28.«Domestic Robots»
29."Piñata Party»
30.«Mr. Cow's New Crew»
31.«Sick as a Chicken»
32.«Kung-Fu Bernie»
33.«Hammy's New Family»
34.«Rock-a-Bye Claris»
35.«The Revenge of Mr. Cow»
36.«Happy Valentine's Day»
37.«To Catch a Hiccup»
38.«Suzie's Shoes»
3nd season (2008-09)
Edit
39.«Goat for a Day»
40.«Fashion Victims»
41.«War and Pieces»
42.«Chicken Diet»
43.«Dance Teacher»
44.«The Weird Case»
45.«Extreme Fitness»
46.«The Son of Mr. Cow»
47.«The Camping Trip»
48.«Best Medicine»
49.«Chicken Charm»
50.«Mind in a Whirl»
51.«Carried Away Chicken»
52.«Mayhem at the Museum»
53.«Mr. Cow's New Crew»
54.«From Air to Eternity»
Rowan Atkinson as Claris
William Roberts as Bernie, Marc, additional voices
Gary Martin as Cleo, additional voices
Matilda Ziegler as Suzie
Helen Lederer as Linda
Broadcast
Edit
Claris and Friends premiered on Disney Channel in the United States on September 16, 2006. The English version later premiered on Boomerang on April 8, 2007. In Latin America, the series premiered on Discovery Kids on May 19, 2012 and YTV in Canada on June 15, 2013. In France, the show airs on Canal+ and TF1.
Home Release
Edit
Walt Disney Home Video released all 54 episodes on DVD on December 19, 2009 under the title Claris and Friends: The Complete Series. In addition, it also features a special bonus disc filled with new & archival material.
Specials
Edit
The Christmas special consisted of two segments from the show, "A Christmas Wish" and "Once Upon in a Year". The special aired in primetime on Canal+ Family on December 30, 2008. It has been replayed on channels like Canal J and M6 during Christmas in recent years.